It's my pleasure to welcome
Terry W Ervin II
, author of FLANK HAWK, a post apocalyptic fantasy novel with a difference. And zombies. And dragons. And Nazis. And... well, it's got everything, really.
Terry was kind enough to provide me with an advance copy of his book for review. I really enjoyed it. Here's what I said about it (my first blurb! yay!):
"A curious blend of epic fantasy, modern techno-thriller and non-stop action-adventure, Flank Hawk is a compelling and original tale of a brave young mercenary pitched in deadly magical combat against the undead techno-armies of the Necromancer King.
Whether you like swashbuckling wizardry, fierce dragon battles, modern military hardware or sword-slashing zombie mayhem -- Flank Hawk has it all."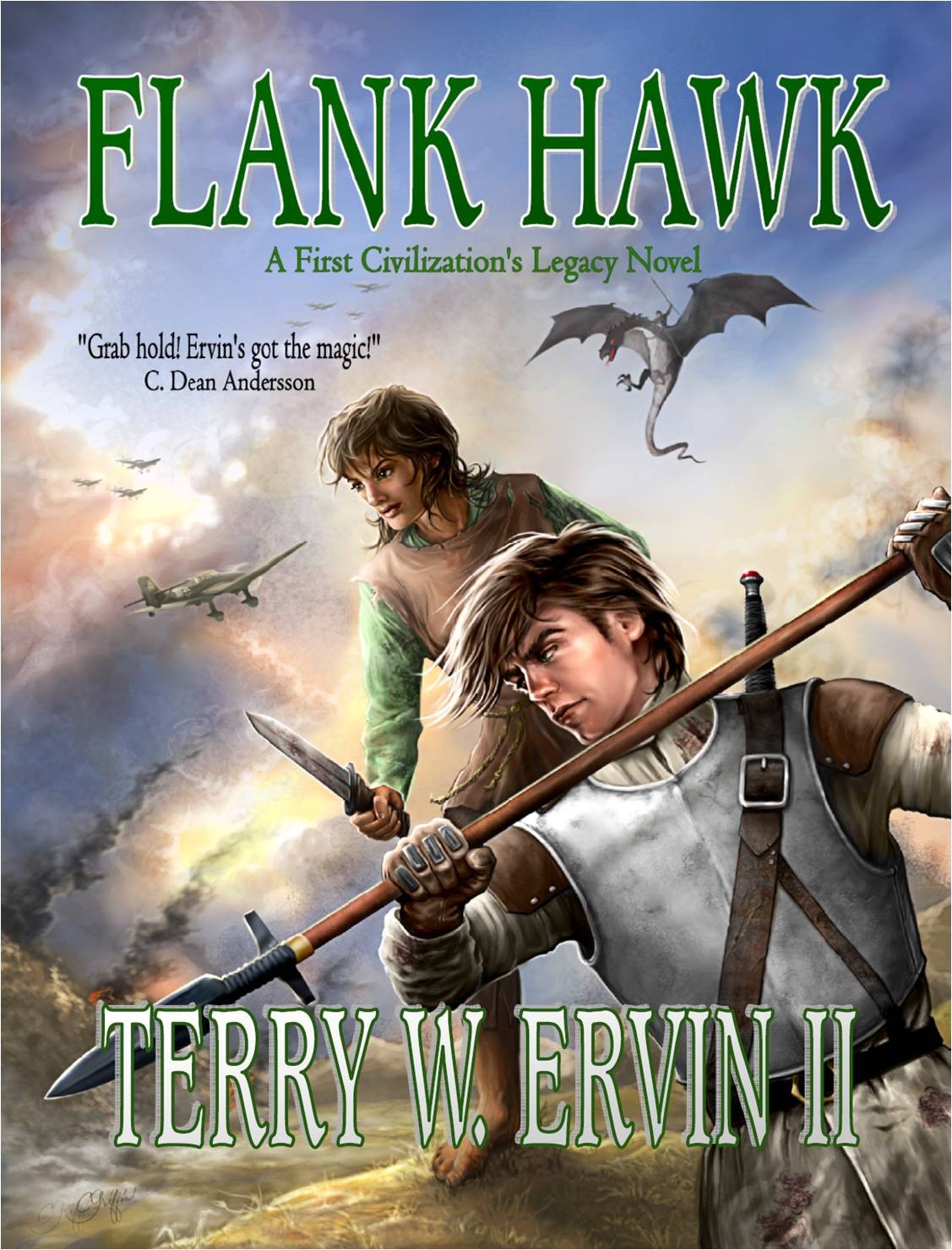 Terry's running
a contest at his website
where you can win the chance to
name a character in his next book
. Check it out! And here's a link to
Terry's blog
.
EH: Tell us a little about Flank Hawk (without giving too much away, of course!)TWE:
Flank Hawk is a post apocalyptic fantasy novel. It's about a farmhand (Krish) that signs on to fight in his lord's militia to fend against the Necromancer King's annual attacks to disrupt crop planting. It turns out to be much more and Krish is swept into events he'd never dreamed of.
I know this may be an easy out, but the teaser on the back of the novel's cover hits all of the high points:
What happens when fire-breathing dragons battle Stukas for aerial supremacy over a battlefield? Can an earth wizard's magic defeat a panzer? Krish, a farmhand turned mercenary, witnesses this and much more as he confronts the Necromancer King's new war machines resurrected from before the First Civilization's fall. Worse yet, a wounded prince tasks Krish to find the fabled Colonel of the West and barter the royal family's malevolent Blood-Sword for a weapon to thwart the Necromancer King's victory.

Flank Hawk is set in the distant future where magic exists and brutish ogres are more than a child's nightmare.
In the end, it's a novel about friendship and loyalty, and sacrifice.
EH: There are so many different plot elements – where did the initial idea for this series come from?TWE:
The initial thought that sparked the novel occurred while I was driving home from work in my 1990 Ford Ranger. I was thinking about a few of the books I'd recently read (or more accurately reread), Zelazny's Guns of Avalon and Harry Turtledove's World War: In the Balance. One of the main turning points in Guns of Avalon occurs when Prince Corwin finds a way to get gunpowder to function in the magical city of Amber. In the Balance is about an alien invasion during the height of World War II. The disparity in technology between the invaders and humanity is a major element in the novel's conflict. Then I began to ponder, what would happen if a dragon encountered a World War II aircraft? Okay, maybe one can see how the line of thought formed. From there I began to devise a world where such an encounter could take place.
Then came the people and creatures that would inhabit the world, how it came to be, and the long-running, multilayered power struggle that would come to influence events in the plot that I was devising. Finally, came Krish and Lilly, Roos and Road Toad—the main characters in the novel.
EH: Flank Hawk is an intriguing mixture of fantasy, sci-fi, horror and others – when you started writing, did you start in one particular genre? What made you want to branch out?TWE:
I guess the mixture is what makes it difficult to describe Flank Hawk to potential readers. I knew it was going to be a fantasy novel but with elements of science fiction included, providing the foundation for magic's existence in the post apocalyptic world. The horror aspect, mainly the zombie hordes that Krish faces, is intensified by the horrors of war. For Krish it's not distant but rather hand-to-hand combat, sometimes against animated corpses that were once his friends and comrades in arms. Of all the creatures and dangers Krish faces in the novel, he dreads fighting zombies the most. I could say more, but the context of the novel explains it best.
So, I wouldn't say I branched out. I used and fused different genre elements together to tell the story. The result is a unique mixture and I don't think there's anything out there on the shelves exactly like it. But in the end the novel is about the characters with the genre elements providing the texture and backdrop to their story.
EH: The cover is beautiful – did you have any input into the artwork?TWE:
Yes, the artwork is awesome. Christine Griffin (the artist) really brought two of the main characters, Krish and Lilly, to life. In addition, the Stuka and dragon hint at the uniqueness of the story Flank Hawk contains. And yes, I get a lot of questions about an aircraft being in the sky with a dragon.
Back to the question. I had a lot of input on the cover. Christine Griffin had a list of questions about the novel, its content and characters. We exchanged ideas and various covers of other fantasy novels, and then she decided upon the basics of what would be included. Later, she sent a rough sketch, which I thought was right on target. She then requested details about the characters so that they would be consistent with the story. I also sent information about the aircraft and dragons, so that they could be accurately portrayed, and she ran with it, using her skills and talent.
The result speaks for itself.
EH: Tell us about your journey from unpublished writer to getting your first contract – did you sell through an agent? Submit direct to the publisher?TWE:
The first novel I wrote is a science fiction novel. It made it out of the slush pile with one major publishing house, only to have the full manuscript passed on (some would say rejected) about a year later. I tried another major house without success, but with the third, it's out of the slush pile once again and is sitting an executive editor's desk, awaiting a decision. And all of this submitting and sitting in slush piles and climbing up the editorial ladder takes time—a lot of time. So, while my science fiction novel was out on submission, I did what all good writers should do: I wrote another novel. Along the way I also completed almost two dozen short stories and articles, most of which found publishers—no major pro markets but they found good homes and earned a me a little money to justify the expenses of ink and paper and the occasional envelope and postage.
Flank Hawk didn't have much success with the bigger houses. The editors that said to send them my next project after reading my science fiction novel weren't taken with Flank Hawk, but it did catch the eye of some smaller publishers. It made it out of the slush pile for full reads twice before finally having success on the third jump out of the slush pile. The editors at Gryphonwood Press were intrigued with Flank Hawk, thought it was not only a good story, but one that would sell, and decided to take a chance on me and my novel.
With the discussion of long waits in slush piles, one would rightly assume that Flank Hawk wasn't submitted through an agent.
EH: Tell us about your writing process –do you plan everything out before hand, or fly into the mist?TWE:
Oh, I plan. Not that everything follows the plan, but I think it's important to have an idea where a novel should start, where it will end, and major events that get the story from the beginning to the end—minimum. For me it's like planning out a vacation. You plot out the highways you intend to take, where you'll stop and visit before moving on, etc. And with any vacation, there are detours, unexpected surprises and stops to see the sights that aren't exactly what was expected or hoped for—and those photos and stories are omitted from the album.
Having a good plan, I think, helps keep the story consistent. Creating whole worlds and cultures and even devising how magic 'works' by the seat of the pants as I write would mean an awful lot of inconsistencies by the end, resulting in a massive amount of revision and rewriting.
EH: I hear there's a second book planned – can you tell us a bit about that?TWE:
Yes, there is second First Civilization's Legacy novel in the works. I have the basics of the plot. Where the story will start and how it should end, and most of the plot events along the way. The actual writing, I suspect, will begin in December.
Krish will be back, still serving as Grand Wizard Seelain's bodyguard, and the Colonel of the West was correct—they're gonna want that malevolent Blood-Sword back. You might be able to guess who's asked to go and fetch it. As for the reason—well, that will have to wait to be learned when the next novel comes out, hopefully in 2010.
Oh, and as a final note, I am running a contest for folks to put their name in for a drawing to
name a character in the next First Civilization's Legacy novel.