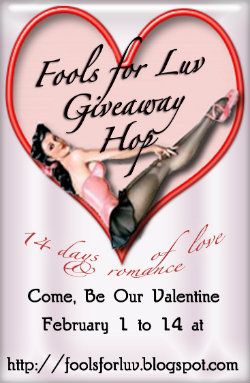 Welcome to the Fools for Luv Valentine's giveaway hop!
Hosted by
Steph at Fangs, Wands and Fairy Dust
and
Dana at Readaholics Anonymous.
Valentine's Day.
A day to celebrate romance! As if we needed an excuse for that, right?
Some people don't like Valentine's Day. They think it's just an unsubtle, over-commercialised grab for our cash, an invented imperative for us to spend money on stuff that doesn't mean anything. If we don't buy flowers and cards and chocolates and fancy dinners out, we're bad boyfriends or girlfriends or spouses.
And... yeah. Maybe there's a bit of that in it.
But you know what? Bring it on. Because Valentine's Day is made for people who don't know how to say 'I love you'.
It's for the shy kid, who on any other day of the year is too mortified to give that sexy, popular, out-of-their-league girl or guy flowers. Valentine's Day gives them courage.
It's for the one who's too embarrassed or bruised or broken inside to make a fuss of their special person. Valentine's Day gives them strength.
Or it's for the unassuming spouse who's just there, day after day, looking after their family, and lacks a bit of romance in their life. It gives him or her an excuse to say, hey, let's go somewhere special just for us.
So sure, it's commercialised and twee. But if Valentine's Day is the excuse you need? Grab it with both hands. Because sometimes, we all need a little help.
Now for the giveaway!
Open worldwide, all ages, so long as your email address can receive the prize.
Rafflecopter, do your magic tricks...
a Rafflecopter giveaway
Here's the list of blog links for the hop. Go clicky. You could win some cool prizes. Enjoy!